How AUSMAN Helps You Save 10-15% on Portable Speaker Import Costs?
Share
Issue Time

Aug 7,2023
Summary
This article will showcase how AUSMAN can help you save 10-15% on the final import costs of speakers, focusing on key aspects like raw material costs, manufacturing costs, customization costs, and logistics costs.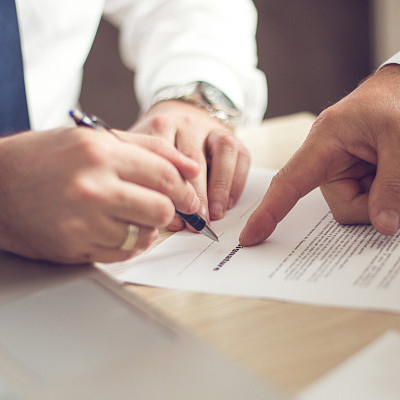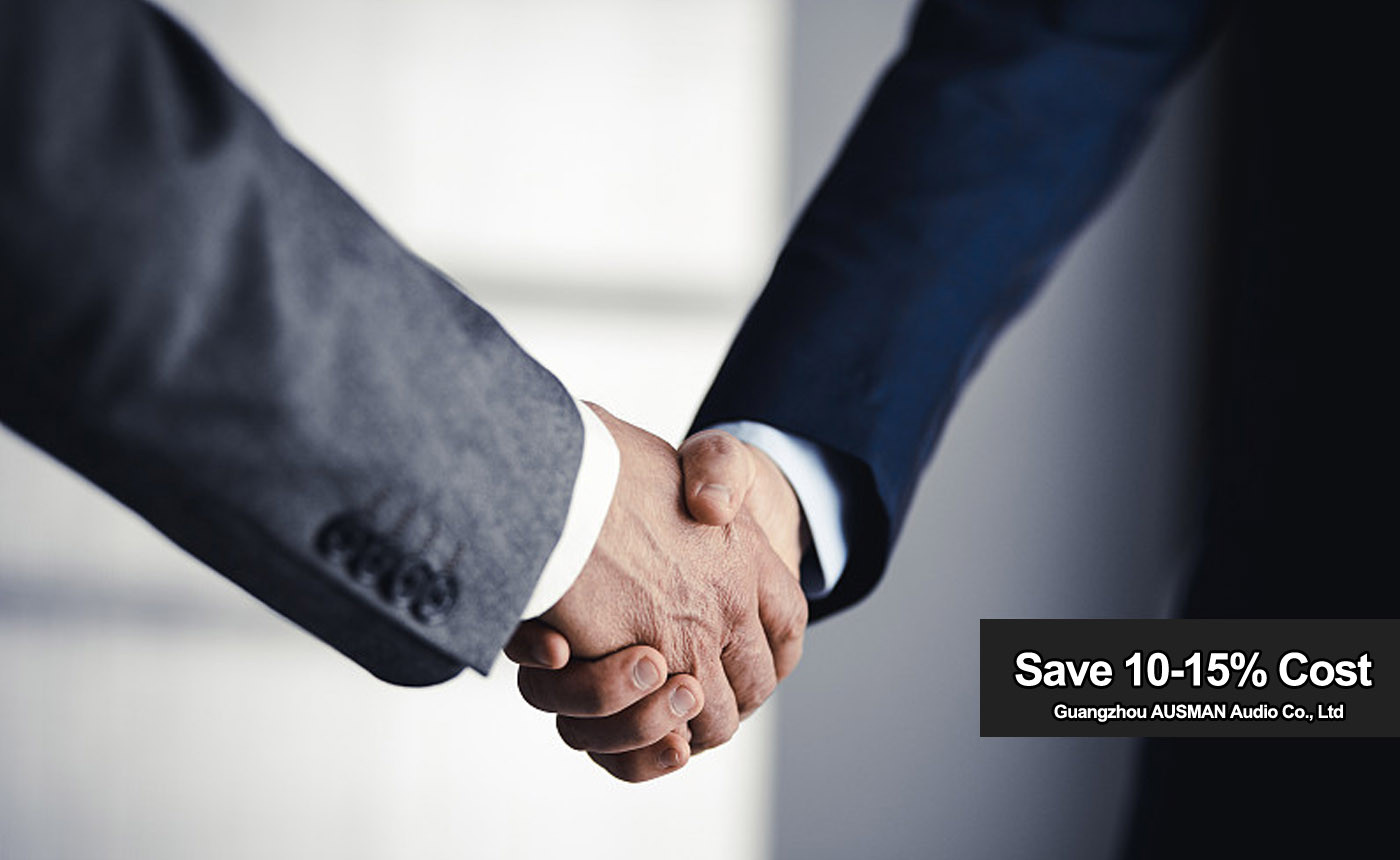 The Current International Market of Portable Speakers
In today's fiercely competitive international market, finding more efficient and competitive ways to manufacture and export portable speakers is crucial.
AUSMAN Audio China, as a professional supplier and exporter in this field, collaborates with over 200 global enterprises.
We are well-versed in every aspect of speaker manufacturing and exporting, understanding your urgent need to reduce costs and increase efficiency.
The development and export of portable wireless products are also the focus of AUSMAN in recent years.
This article will showcase how AUSMAN can help you save 10-15% on the final import costs, focusing on key aspects like raw material costs, manufacturing costs, customization costs, and logistics costs.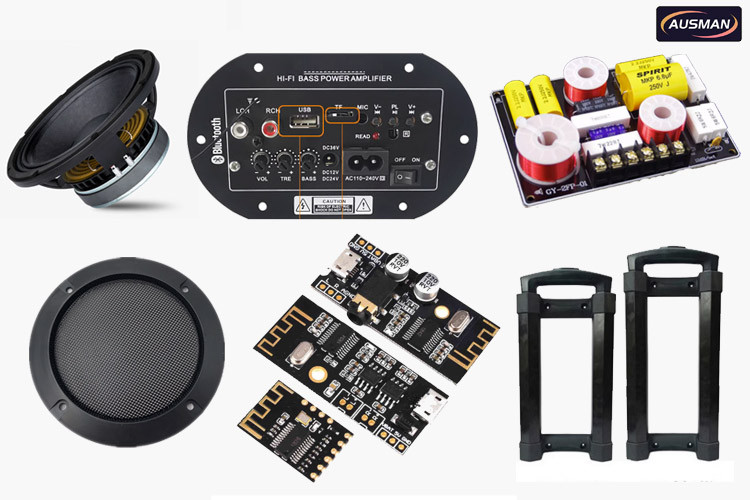 Accessories: Drive unit, Power Amplifier Board, Frequency Divider, Grille, Bluetooth Circuit Board, Pull Rod
Optimizing Raw Material Procurement In AUSMAN
According to our statistics, during the assembly stage, more than 40 components and items affect the cost of an average portable plastic sound system.
This includes major components like wooden and plastic cabinets, metal grilles, cloth covers, drivers, crossovers, amplifier boards, power supplies, batteries, and more.
Each of these items can impact the overall product cost.
How does AUSMAN control raw material costs?
We have an in-depth understanding of the characteristics and performance of different raw materials, tailoring the best options for you to help lower raw material procurement costs.
AUSMAN Audio prioritizes establishing strong relationships with local, high-quality suppliers to minimize transportation costs.
Currently, we have established friendly relationships with over 50 suppliers.
This enables us to provide you with high-quality, low-cost, and high-efficiency raw materials.
This approach effectively manages costs while ensuring the timely delivery of orders.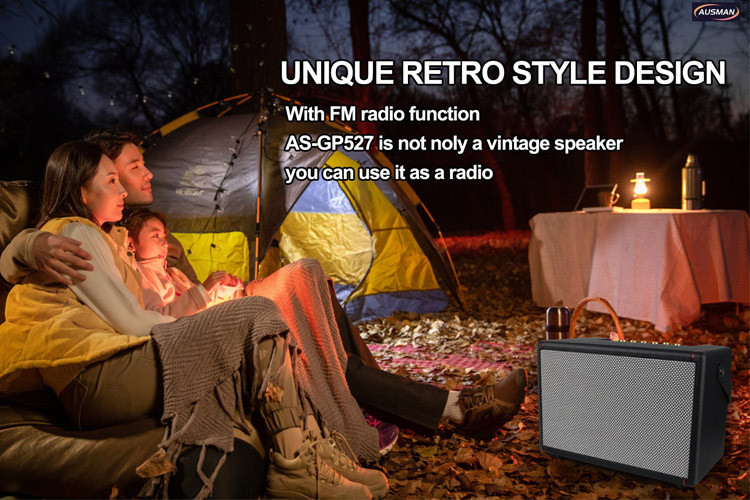 The Manufacturing Process For Portable Speakers
Manufacturing costs are very important in the entire supply chain, especially for the international trade.
With abundant experience and expertise in manufacturing, we can assist in lowering manufacturing costs by optimizing production processes, improving production efficiency, and reducing waste.
Production processes include regular and customized production, including mold customization and mass production of main enclosures.
AUSMAN Audio of OEM\ODM manufacturing corporations, our engineers strive for excellence in every step to minimize costs.
Over 200,000 units of plastic speakers per month.
Over 5,000 units of wooden and wood-plastic composite assembly per month.
This production capacity data is the result of long-term practical production, optimizing coordination among departments such as R&D, production, quality, and warehousing.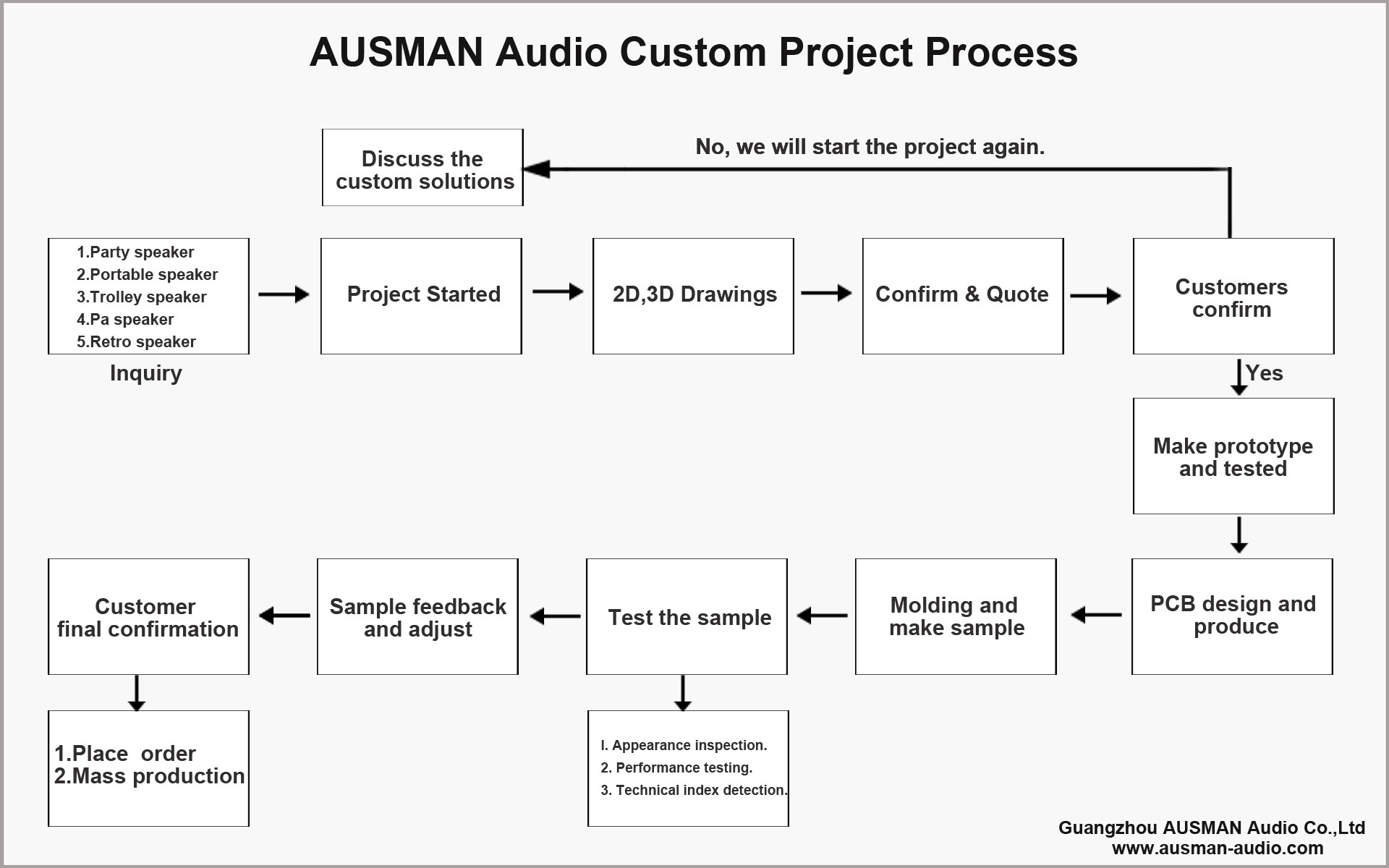 Flexible Customization Options
Customized demands might increase additional costs, but AUSMAN Audio can provide flexible customization options to meet diverse market and customer needs.
Over 90% of AUSMAN Audio's orders involve customized projects, reflecting the diverse nature of the global market. Different regional consumer habits and brand positioning necessitate customization options.
Common projects include logo customization, control panel design, driver unit customization, cabinet colors, packaging, performance tuning, and apps.
With a professional R&D team, we can design and improve products according to your requirements, while effectively controlling the cost increase brought by customization.
This ensures you get the best-customized solutions.
New portable speaker model, from the drawings to real product and mass production, AUSMAN only need 40 days(Including the mold design and making).
Stable Logistics and Transportation
Logistics costs also play a vital role in global trade.
We can refer to the entire process of international procurement:
1. Customer negotiations with AUSMAN.
2. Order confirmation (payment of deposit).
4. R&D work and prototype manufacturing for customer confirmation.
5. Start planning and implementing production.
6. Quality inspection of goods.
7. Transfer of goods to AUSMAN warehouse.
8. Customer final payment.
9. Logistics company submits documents and applies for customs clearance.
10. Goods are loaded into containers (AUSMAN to export port).
11. Sea transportation (export port to destination port).
AUSMAN Audio has rich experience in logistics and transportation, thanks to our stable freight forwarders.
They can provide services such as cargo assessment, container loading, customs declaration, and clearance, effectively avoiding potential issues that may arise during transportation.
With extensive preparation, we can provide you with optimized logistics solutions, including choosing transportation methods, optimizing cargo volume, and managing customs affairs.
Through meticulous logistics planning, we can help you reduce transportation costs, making your products more competitive.
Based on AUSMAN's shipping records for the first half of 2023 (over 100 containers), we selected three customers, all of whom collaborate with AUSMAN and our peers.
The cost of goods delivered in collaboration with AUSMAN is the lowest, saving approximately 10-15%.
The reasons for cost increases for these customers were as follows:
1 Substandard raw materials resulting in quality issues and consumer complaints.
2 Poorly executed customization leads to trademark infringement disputes.
3 Improper adhesive usage leading to customs confiscation.
4 Incorrect declaration of container content, necessitating re-declaration and delaying shipment.
5 These issues are not fictional.
Get Help For Portable Speaker Supplier AUMSAN Audio China
If you are seeking a supplier of portable speakers from China and wish to reduce bulk purchasing costs by more than 10%, please contact AUSMAN Audio.
We will provide you with the most effective and feasible collaboration plan.
Before that, this post will help learn how to work with Chinese factory.
"10 Tips For Working With Chinese Speaker Factories" on our blog.
l
l
Related Reference Resources: