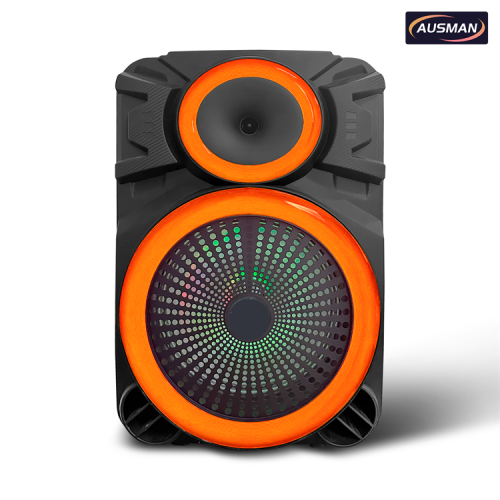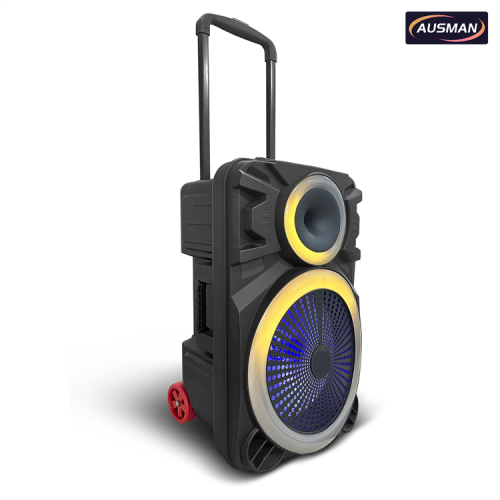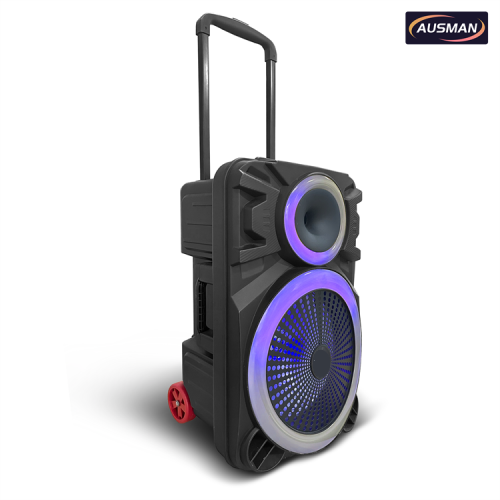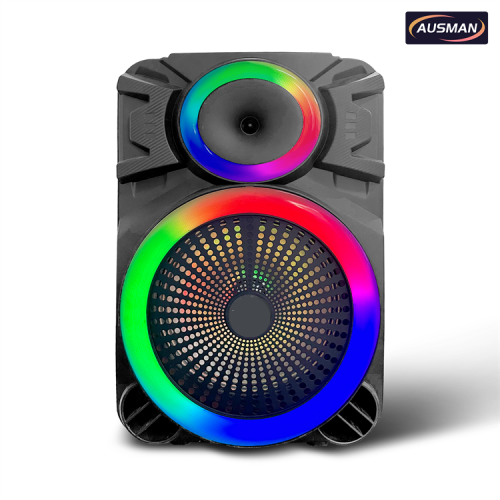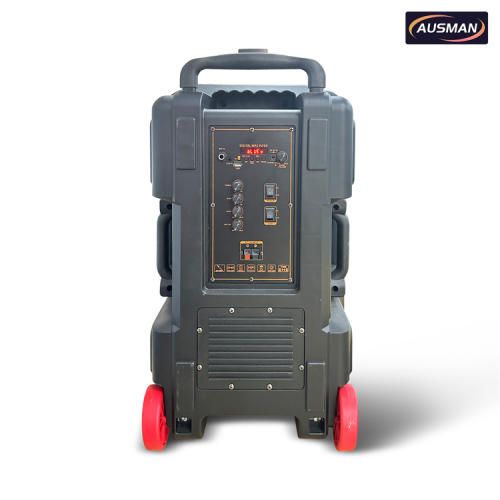 Wholesale Bluetooth Party Speaker With Disco Light
Item specifics
Drive Unit

12'' Woofers+Tweeter
Battery

7.4V/2400 mAh Li-ion Battery
Power

100W
Material

Plastic
Packing

PE bag+carton
Minimum order quantity

200 sets
Description
Your Leading Supplier For Party Speaker with Disco Light In China
AS-2177
We are honored to introduce our new product -Bluetooth Party Speaker with Disco Light AUSMAN AS-2177.
This Bluetooth Speaker AUSMAN has a high-quality PP material shell, with excellent durability, impact resistance, quality, it's perfect for use in parties and social gatherings.
The original intention of we designed this speaker was to allow users to get the best music experience in party and social gatherings.
This Bluetooth Party Speaker with Lights is not only fashionable, but also simple operation, allowing users to easily control the effects of music and lighting, thereby creating a beautiful party atmosphere.
12"

Woofer

6h

Battery Life

LED

Feature

PP

Type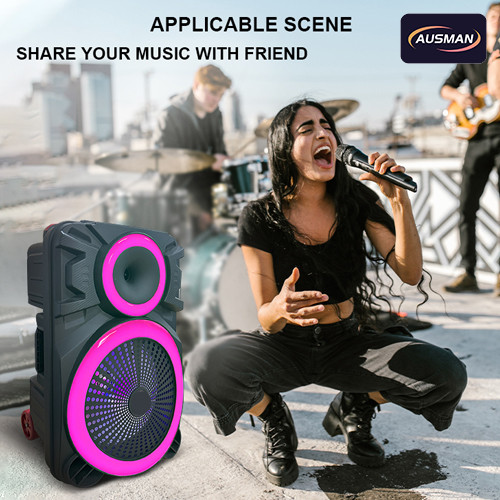 Parameters of This Wirless Speaker Systems

AS-2177 is also a custom party speaker with 12" woofer and built-in battery, we can check the parameters in the form below.
| | |
| --- | --- |
| | AS-1209 |
| Type | Wholesale & Custom |
| Drive | 12″ Woofers+Tweeter |
| Battery | 7.4V/2400 mAh Li-ion Battery |
| Power | 100W |
| Material | Plastic |
| Function | USB/AUX/BT/Mic input/headphone port |
| Accessories | Adapter, user manual, remote control, wireless microphone*2(optional) |
| Certificate | FCC/CE/ROHS/REACH ext. |
| Size | 390*280*590 |
| Packing | PE bag+carton/365*440*615mm |
| Place of production | China |
Technical Features and Applications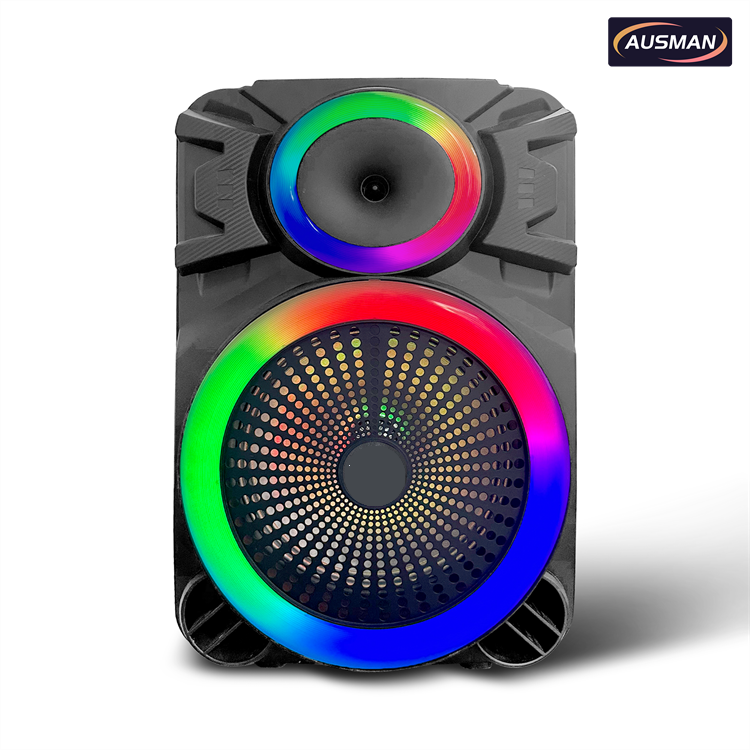 Party Speaker With Disco Lights
In terms of sound effects, it is equipped with a 12 -inch bass unit that can provide a bass effect that shocks the soul and allow you to enjoy a more realistic music experience.
Two Disco Light Circles revolves around the bass and treble, and the colorful LED lights at the time of play can create a cheerful atmosphere for your gathering.
In order to meet the needs of users when moving, this is also the mainstream direction of the development of electronic products at present, we specially designed the lever on the back and wheels.
It is very easy to carry with handle, because it is lightweight and with the size 390*280*590mm.
You can easily bring the speakers to any occasion without worrying about weight and size.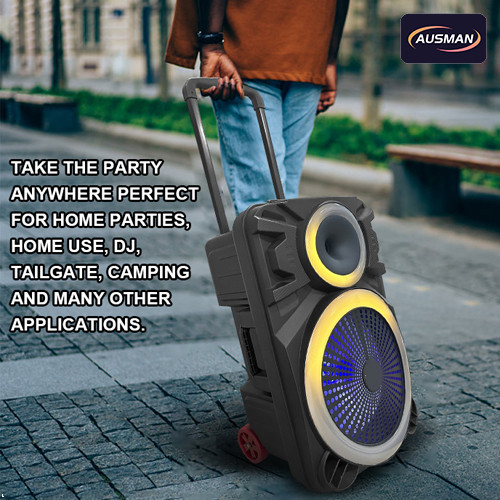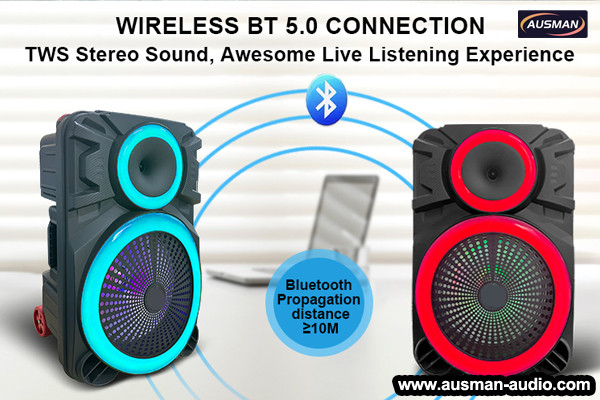 Built-in Power and Bluetooth
The Battery Powered Bluetooth Party Speaker AS-2177's built -in battery can support 6 -hour music playback, which is enough for us to use in outdoor parties.
You can put it in a backpack or a suitcase and enjoy music and party anytime, anywhere.
At the same time, this Bluetooth Party Speaker for Sale has a built -in Bluetooth function that can connect to any Bluetooth device wirelessly, such as mobile phones, laptops and tablets.
Colorful Lights For Your Parties
Of course, another major feature of this Bluetooth Party Speakers for sale is its cool DISCO lamp ring. The two Disco Light Circles are around the bass and treble.
They are composed of colorful LED lights. The colorful LED lights at the time of play can create a cheerful atmosphere for your gathering.
You can choose different light modes to achieve the best results according to your preferences and occasions.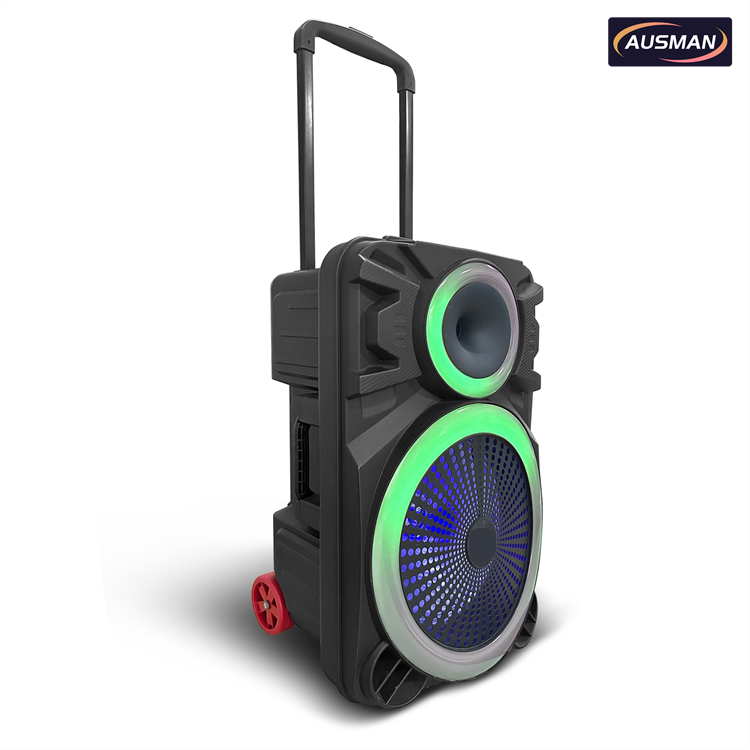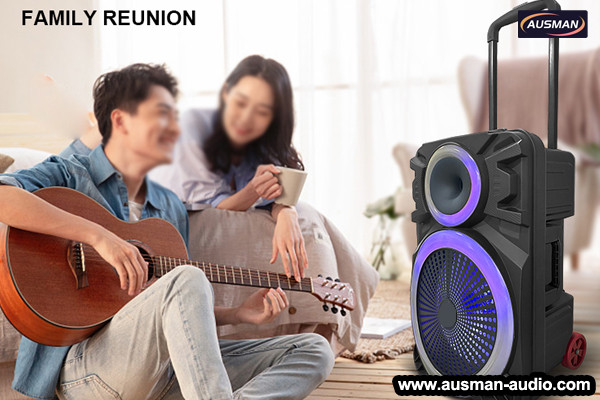 The process of PP Plastic Speaker R & D and Production

PP speakers
are also one of the main products of
AUSMAN
. We have our own modeling workshop and R & D team.
And we have developed a clear system for
a new PP plastic speaker process
. AUSMAN's new product operation specifications are as follows.
1. Market Research-Before developing new products, we need to investigate the market to understand the needs and preferences of consumers. In recent years, the popular styles, average price, target market, etc. And South America.
In this way, we can determine the design direction and functional characteristics of new products.
2. Design Products-On the basis of understanding market demand, we start designing new PP plastic speaker products. According to market research results and user needs, designers will formulate detailed planning of product design, functional characteristics, and material selection.
3. Make Sample-Once the designer completes the product design plan, engineers will start developing samples. By repeated testing and modification, we can ensure the quality and stability of the product.
4. The Confirmation of Sample-we began to invest in manufacturing. The production process of PP plastic speakers involves various technologies and equipment, such as injection molding machines, metal processing equipment, and electronic component assembly lines.
5. Inspection-In the production process, we will strictly inspect and control each production link. This can ensure that each made of PP plastic speakers meets our quality standards.
6. Packaging and delivery-Finally, we pack all the manufactured PP plastic speakers and send them to different sales channels or ship directly to customers.
In general, the development and production process of PP plastic speakers is a very complicated and detailed process.
From market research, we need to excel in all aspects of design, production, production, inspection, and packaging delivery to ensure that the product quality we provide to customers is the highest.
Our previous pages have detailed analysis of the process, advantages and disadvantages of PP plastic speakers. If you are interested, you can read it
here
.
Reply your inquiry in 24 working hours.(our normal working time:6:00~22:00)




Professional team solves product -related problems for you.Customized design is available.




Exclusive and unique solution can be provided to our customer by our well-trained and professional engineers and staff.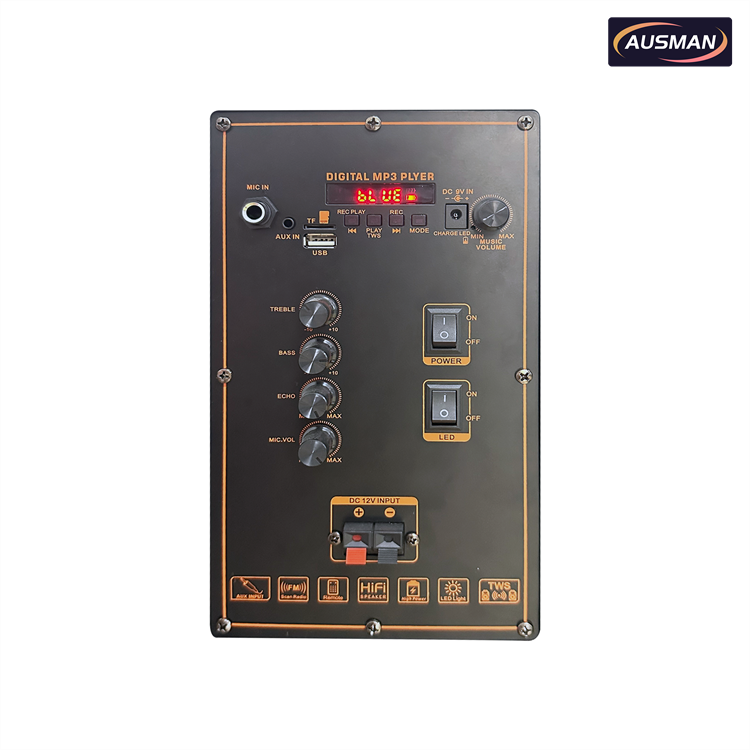 If the above models are not suitable for your workpiece, please contact us to tell us your needs, then can we send you the most satisfactory answer